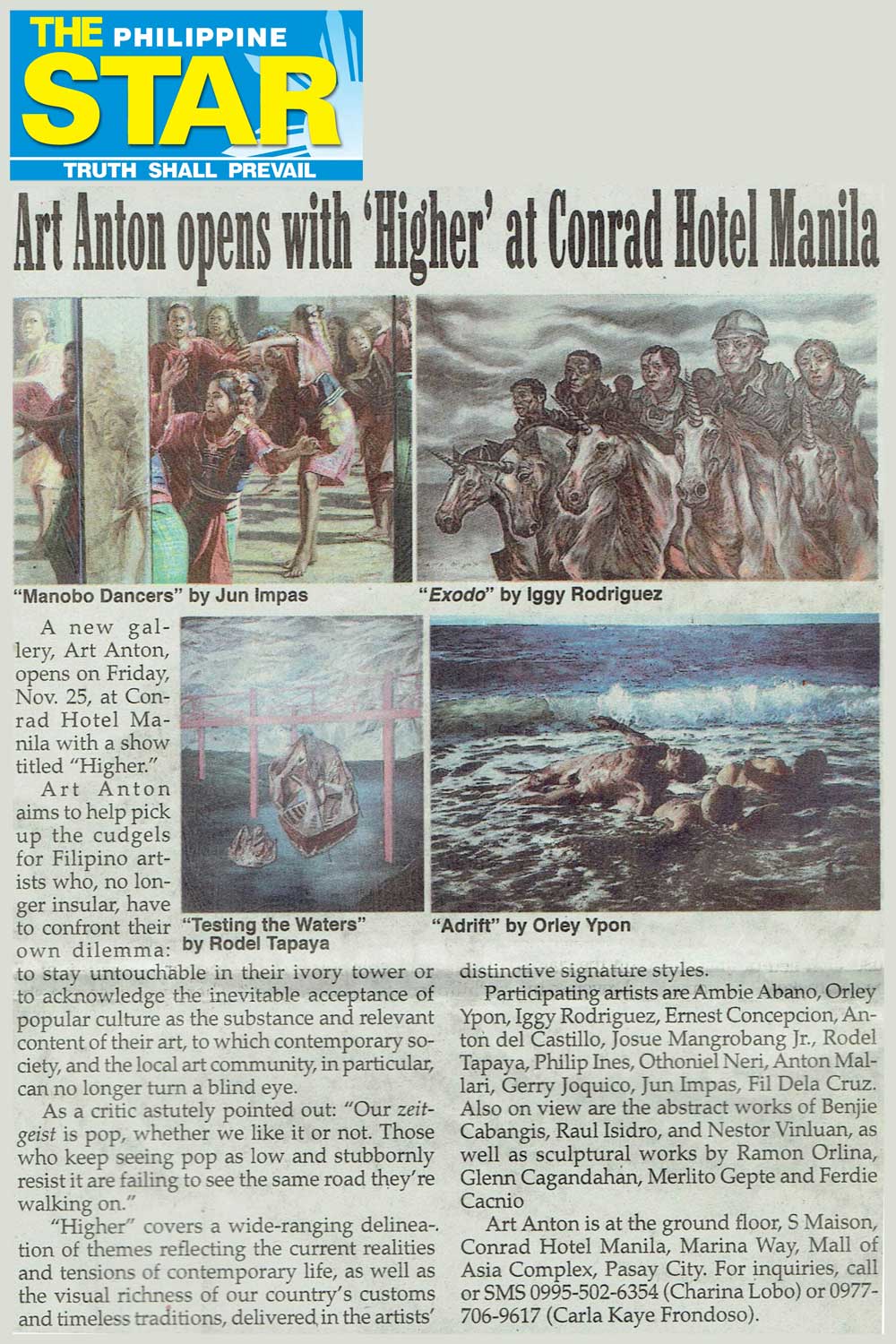 A new gallery, Art Anton, opens on Friday, Nov. 25, at Conrad Hotel Manila with a show titled "Higher."
Art Anton aims to help pick up the cudgels for Filipino artists who, no longer insular, have to confront their own dilemma: to stay untouchable in their ivory tower or to acknowledge the inevitable acceptance of popular culture as the substance and relevant content of their art, to which contemporary society, and the local art community, in particular, can no longer turn a blind eye.
As a critic astutely pointed out: "Our zeitgeist is pop, whether we like it or not. Those who keep seeing pop as low and stubbornly resist it are failing to see the same road they're walking on."
"Higher" covers a wide-ranging delineation of themes reflecting the current realities and tensions of contemporary life, as well as the visual richness of our country's customs and timeless traditions, delivered in the artists' distinctive signature styles.
Participating artists are Ambie Abano, Orley Ypon, Iggy Rodriguez, Ernest Concepcion, Anton del Castillo, Josue Mangrobang Jr., Rodel Tapaya, Philip Ines, Othoniel Neri, Anton Mallari, Gerry Joquico, Jun Impas, Fil Dela Cruz. Also on view are the abstract works of Benjie Cabangis, Raul Isidro, and Nestor Vinluan, as well as sculptural works by Ramon Orlina, Glenn Cagandahan, Merlito Gepte and Ferdie Cacnio
Art Anton is at the ground floor, S Maison, Conrad Hotel Manila, Marina Way, Mall of Asia Complex, Pasay City. For inquiries, call or SMS 0995-502-6354 (Charina Lobo) or 0977-706-9617 (Carla Kaye Frondoso).
Reference: http://thephilippinestar.ph/articles/2016-11-21/lifestyle/art-anton-opens-with-higher-at-conrad-hotel-manila/175831